Customer Stories
In the words of our own clients, here's what they have to say about Westcoast Gate.
Gate Repairs

Reliable, Flexible On-Call Service
"We can call these guys anytime, day or night. I often call before 7a.m. Westcoast Gate will fix a gate, "even at 5am". They try hard to please."
Tom P.

Westcoast Gate Knows What They're Doing
"The Westcoast Gate guys show up. They're diligent, presentable, knowledgeable. Westcoast Gate is "on it" regarding customer service."
Tyler P.

Reliable Service Call Anytime
"Westcoast Gate will do a service call at any time, with no notice."
Brian V.

Best Gate Repair Technicians
"Alex and Mario are the best gate repair technicians we have ever had work on our home. They took care to make sure everything worked perfectly before they left, cleaned up and were in and out before I knew it. I appreciate your service."
Marianne P.

Gate God
"Thanks for your prompt help at our home. The  Westcoast Gate team are "Gate Gods"."
Best Regards
Peter L.

Incredible Service
"Thank you for your incredible service."
The R Family

Prompt & Fast Gate Repair
"Hey, Westcoast Gate! Thank you for the prompt response to our call. It all seems a bit pricey but I trust your expertise and very thankful for you coming and fixing the problem so quickly."
Tim

Prompt & Professional Service
"Thanks so much for the prompt and professional service on our condo gate on Doheny Drive. My co-residents and I are thrilled with the work and results. You guys are great."
DG Foundation

Great Gate Repair Job
"Thank you so much – your team did a great job fixing the gate. Cheers!"
Margot D.

Emergency, Night Service
"Thank you so much for showing up in the middle of the night. After being out of town for almost a month and coming home to find the gate wouldn't open was not a fun experience."
Diane S.

Amazing Response & Great Work
"Thank you for your amazing response.  Great work!"
Nancy R.

Fast Service
"Thanks for always coming through so quickly. You are the best gate company!"
Deborah L.
Gate Installations

Wonderful Results
"Thanks again to your team for a wonderful result. Meets all of our needs – we are all very happy with the fences and gates."
Regards,
Rob

Reliable for High End Projects
"I have been a client for 15 years. We go to Phillip for doors and gates. He is a great guy. Years ago another general contractor recommended Phil as a good reliable guy. Most of our projects are higher end and Phil always rises to the occasion."

Custom Fit Auto and Pedestrian Gates
"When we made the decision to remodel our home we had no idea how complicated the auto and pedestrian gates would be to build. You guys not only saved us money with your suggestions but by recommending the right motors and materials everything works perfectly. Thank you so much!"
Ross W.

Customized Gate Installation From Design to Execution
"My company builds custom residential homes. I have used Westcoast gate for 15 years. Westcoast Gate is not an "out of your truck" installer. They will do the drawings, plan the technology and think through the entire project from beginning to end. Their execution is fantastic."
F. Construction

Trusted, Quality Vehicle and Pedestrian Gate Work
"Every home we build or remodel has a combination of vehicle and pedestrian gates. I have worked on 5-10 projects with Westcoast Gate and they are on time, show up when we need them and because gates are their business help us stay on budget without compromising quality."
M. Construction

Top Notch Responsive Gate Company
"As a subcontractor Westcoast Gate is 9.4 out of 10. Their responsiveness differentiates them from other gate companies. When I start a project for a client I'm investing in people to support me in every phase of the project. Westcoast Gate is top notch."
S. Construction

Executes Large, Complicated Gate Projects According to Plan
"I have worked with Westcoast Gate for 6-7 years on roughly 12 projects. These guys know how to handle large, complicated projects. Their price is always competitive but the real reason I like working with them is because they get the job done on time and exactly as we agreed in the original design phase."
T. Development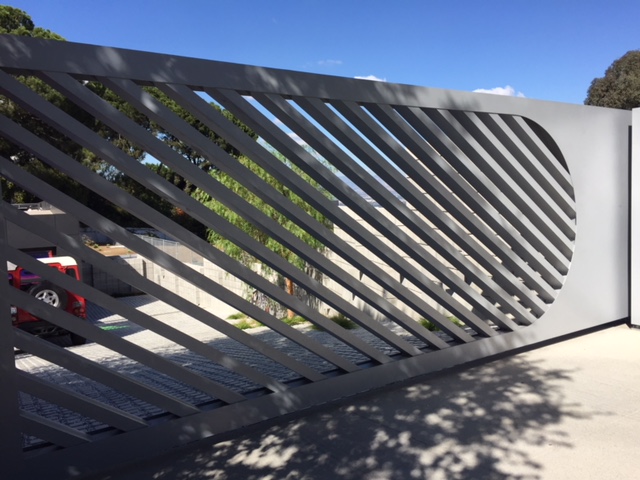 Los Angeles Gate Installation Success Story
We've been manufacturing and installing custom automatic security gates for almost 20 years and we love what we do: Especially when it's a challenge. Our client recently purchased a very special property in Los Angeles. Working with architects and designers they created a contemporary look to their gates and asked us to build them in aluminum. Working with aluminum is a challenge because it's a soft metal and it's difficult to deliver clean welds. Aluminum is also a temperamental material and requires skilled craftsmen to make certain there is no warping. We were asked to build, finish, deliver and install four gates for the client: two vehicle gates, a pedestrian gate and a gate to access the lower level of the property.
The initial work was done in our welding shop in Hawthorne. The two vehicle gates called for angled ribs integrated into the main frame. In the largest rectangular gate, we installed 24 ribs at 30° angles. In the smaller gate with circular cutout we installed 11 ribs at the same angle. After the skeleton was built for each gate we purchased aluminum sheet metal and using a large format water jet system cut the oval and rectangular openings for the two vehicle gates. A precision cutting tool was required because both sides had to mirror each other and be an exact match. When the gates were finally assembled we finished them in a custom powder coated color and delivered them to the property.
Once on site the real fun began. The large rectangular gate weighs about 800 pounds. It was designed to be a sliding gate, but most sliding gate operators are chain driven. Because the client requested a clean look we created a cantilevered tail extending behind the block fence to counter balance the weight of the gate itself. We selected a rack and pinion operator that was mounted on a pad. The driveway has a smooth, uninterrupted finish but on the ground behind the wall we installed roller balls that allow for a smooth and quiet operation as the gate opens and closes. At the top of the gate inside the property we installed a rack with teeth in it which aligns with sprockets in the operator and activates the motor.
We had never built a security gate system like this before. With senior technicians that have been with us for many years and a team that considers every challenge an opportunity to excel, we delivered what the client asked for. At Westcoast Gate we serve one client at a time!